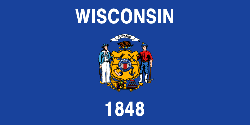 Wisconsin
"Badger State"
Motto

Forward

Capitol

Name Origin

French corruption of an Indian word whose meaning is disputed

Statehood Date

May 29, 1848 (30th)
Cities in Wisconsin
NOTE: Not all cities are displayed. Please narrow your selection by using the search above.
Official Symbols
A state's official symbols represent the composition and culture of the land and people who live and have lived here. Below are the symbols of Wisconsin along with the year they became official.
| | |
| --- | --- |
| Flower | Wood Violet (1949) |
| Tree | Sugar Maple (1949) |
| Grain | Corn (1990) |
| Bird | Robin (1949) |
| Animal | Badger |
| Wild Life Animal | White-Tailed Deer (1957) |
| Domestic Animal | Dairy Cow (1971) |
| Insect | Honeybee (1977) |
| Fish | Musky (Muskellunge) (1955) |
| Song | "On Wisconsin" |
| Mineral | Galena (1971) |
| Rock | Red Granite (1971) |
| Symbol Of Peace | Mourning Dove (1971) |
| Soil | Antigo Silt Loam (1983) |
| Fossil | Trilobite (1985) |
| Dog | American Water Spaniel (1986) |
| Beverage | Milk (1988) |
| Dance | Polka (1994) |
| Waltz | "The Wisconsin Waltz" (2001) |
| Ballad | "Oh Wisconsin, Land Of My Dreams" (2001) |
Demographics
Population Density

98.8 people per square mile
Geography and Weather
Land Area

54,310 sq mi. (140,673 sq km)

Lowest Elevation

0 ft (0 m)

Average Elevation

1050 ft (320.04 m)

Highest Temperature Recorded

114°F (46°C) on July 13, 1936

Lowest Temperature Recorded

–55°F (–48°C) on February 4, 1996